Sporting Achievements 2018/2019
Throughout the school year, we take part in numerous sporting events where we compete against local primary schools in sports such as rounders, cricket, cross country, swimming and more. We also participate in a football and netball league throughout the year within the primary school Catholic cluster.
Take a look at some of the sporting achievements we have attained this year so far.
Midlands Schools Cross Country Finals- Y5 Girls- 2019
A fantastic performance by our selected team but with nearly 100 competitors in the difficult 1.2km race there was no medal this time. However, what our girls did brilliantly was think about their pace, keep to their strategy and give it their very, very best. Well done to our Y5 cross-country team- we are all very proud of you!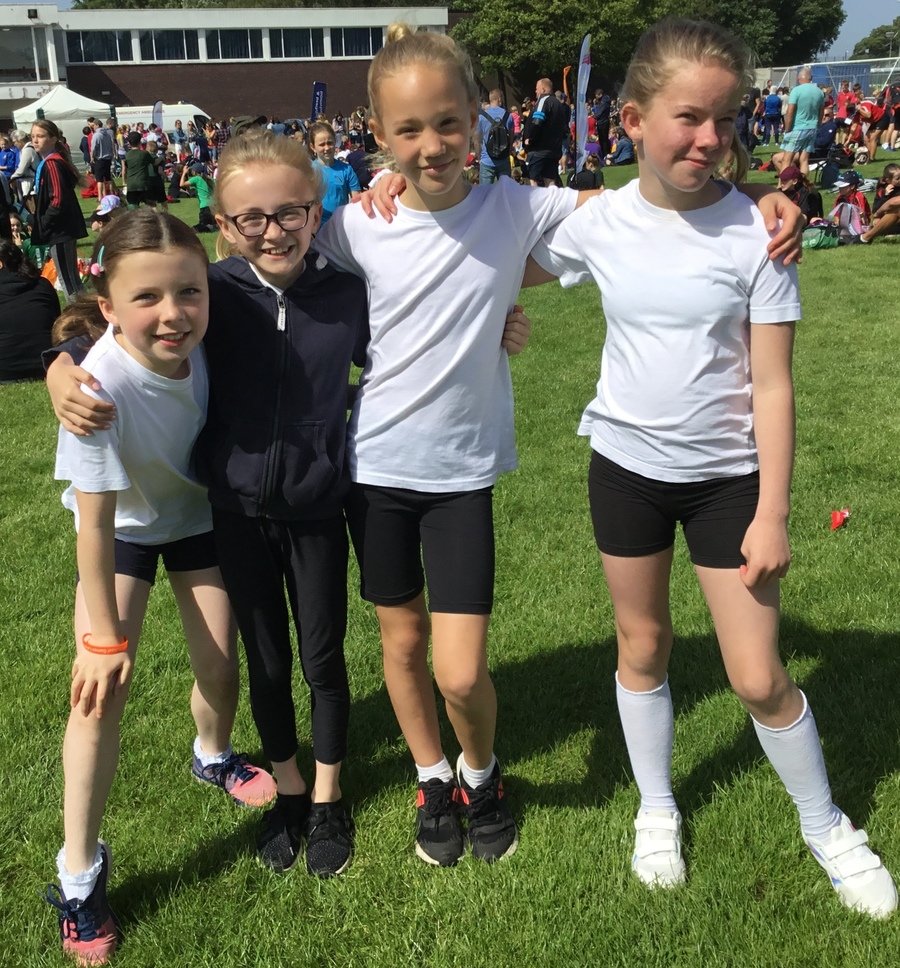 Catholic Schools Cross Country 2019
Grit and determination won the day for our sports representatives at Cardinal Griffin's Primary Cross Country event this May. With a fantastic team performance, our runners finished laps ahead of the nearest competitors. Mr Jobburns was extremely proud to see the children's best effort in what was a tough and demanding race. Well done to all of those children that represented our school - a thoroughly deserved win!
Catholic Schools Swimming Gala 2019
April saw a mixed team from our Y5 and Y6 classes compete at the annual swimming gala held at Rugeley Leisure Centre. Our team gave every race their very best effort and whilst we didn't rank overall, we did achieve success in a number of individual races. The team events showed just how well our children work together to achieve and this teamwork resulted in a respectable third and remarkable first place! Well done to all of those that represented our school and thanks to those that organised the event.
Year 6 at Fenton Manor County Sports Finals
Representing Rugeley and Cannock schools at the County finals, our team managed to finish fourth which is an absolutely fantastic achievement. They competed in a range of indoor athletic activities and showed tremendous team-spirit. Well done to all of our athletes!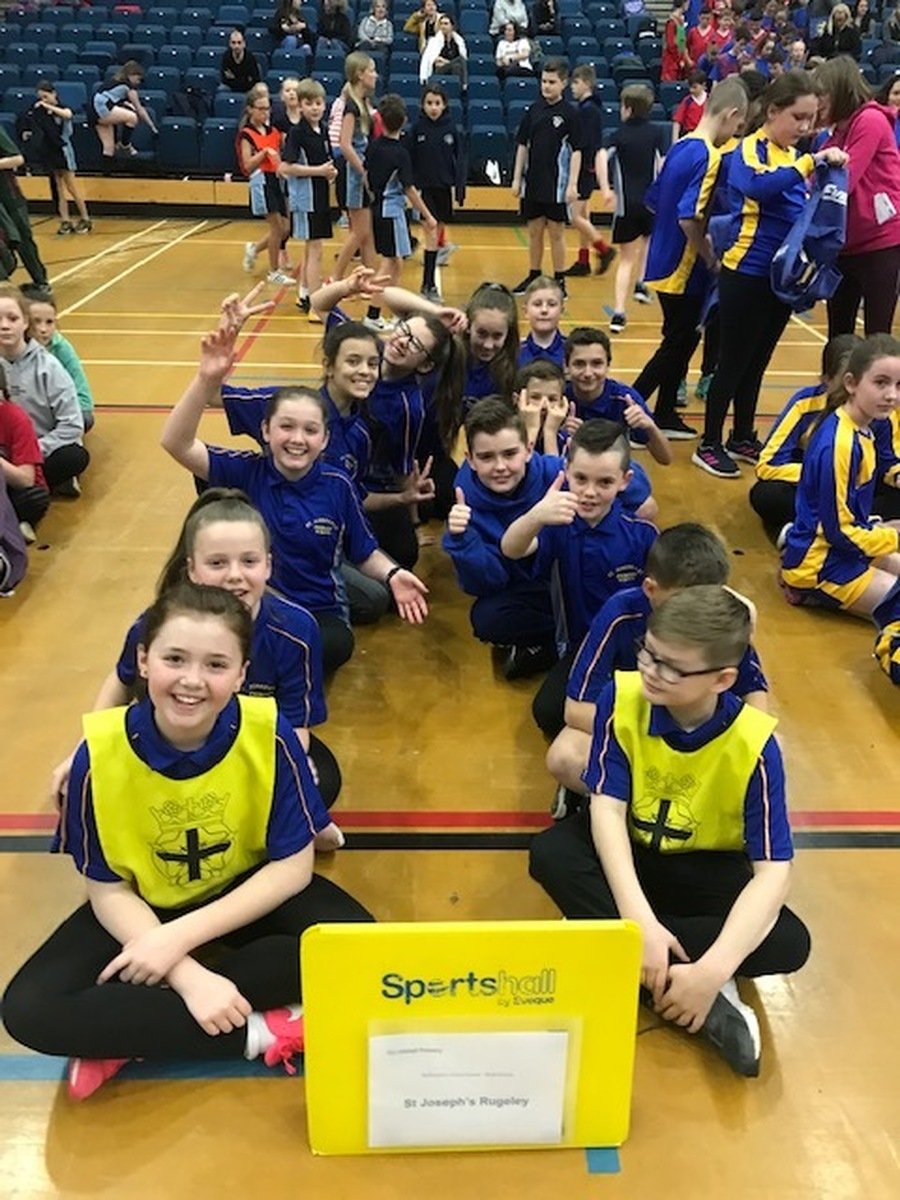 KS1 (Y2) Athletics
Following on from the Year 2 class taster delivered by Hart School staff a few weeks ago, the Year 2 team took part in an indoor athletics festival at the Hart School and finished in a very respectable 4th position out of the fourteen schools that took part. Well done to all those that represented the school.
Inter-School Handball Tournament
Pupils from Key Stage 2 took part in a free taster session and mini-tournament at Cardinal Griffin in the sport of handball. Having never played this sport before, the team quickly learnt enough of the rules and skills to be able to play against other local teams. A win, a loss and a draw meant that they experienced the highs and lows of competitive sport whilst representing the school in a new sporting discipline. Well done to all of those that took part.
Rugeley (and Surrounding Areas) Inter-School Football Tournament
We are very proud to say that our boys football team secured a tournament victory at a large football tournament held at Rugeley leisure centre. After four emphatic wins, our team are now waiting to progress to the next level of tournament competition. What impressed teachers so much was the team's spirit, communication and selflessness in ensuring that all members contributed to the team's success. Included in the wins was a match which was won by a considerable 15 goals to none! Fantastic team work- well done!
Staffordshire & Stoke-On Trent School Games Inclusive Festival
Representatives from our school took part in the Paralympic section of the school games and finished in an impressive 8th position. They took part in events like boccia, goalball and kurling- which made their result even more impressive. They even managed to meet former Olympian Kristian Thomas who was there to spectate and enjoy the games.
St Joseph's Football Team 2017/2018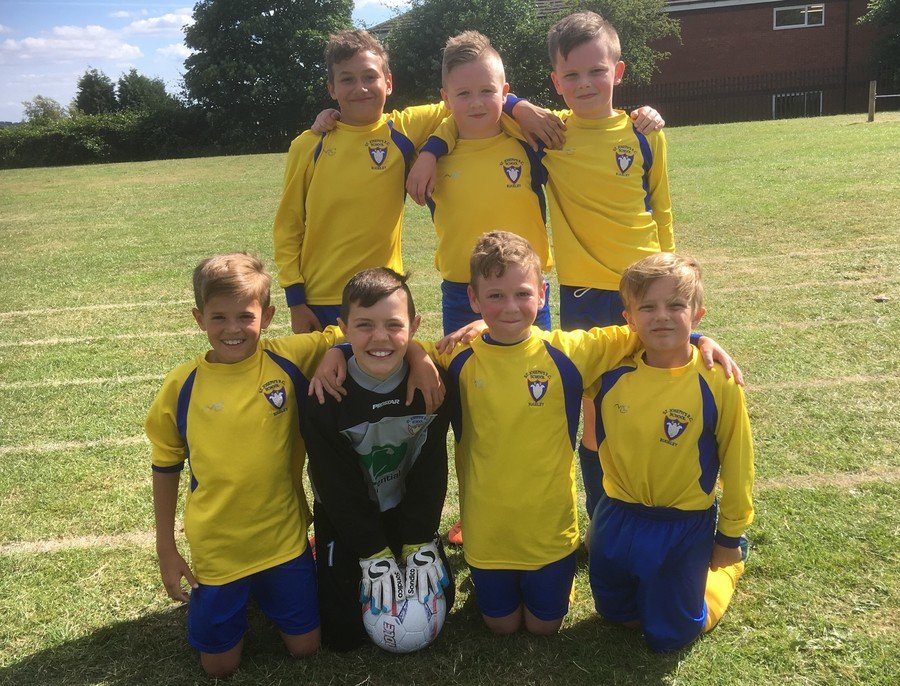 Rugeley Schools Sports Finals
The end of year sports day for all the Rugeley schools took place at the Hart School. The St Joseph's team consisted of every single member of the Year Six class and because of their enthusiasm and hard work, they finished in a very respectable fourth place, just outside the medals!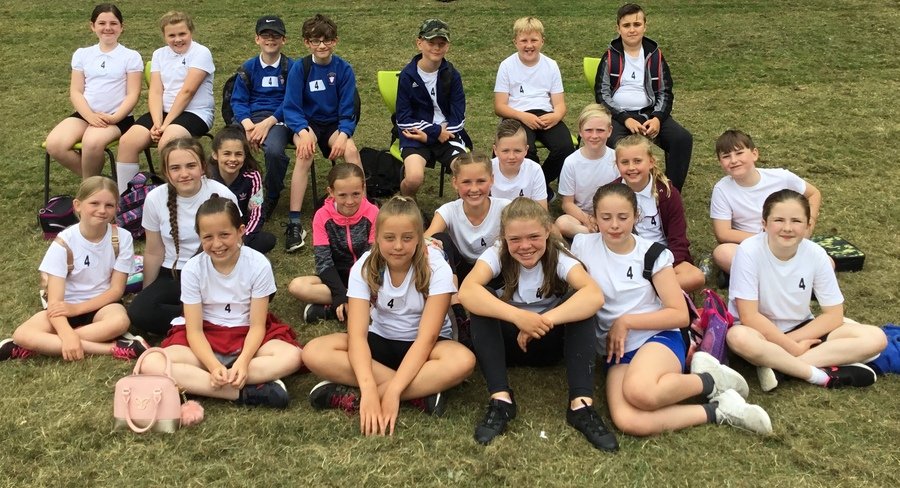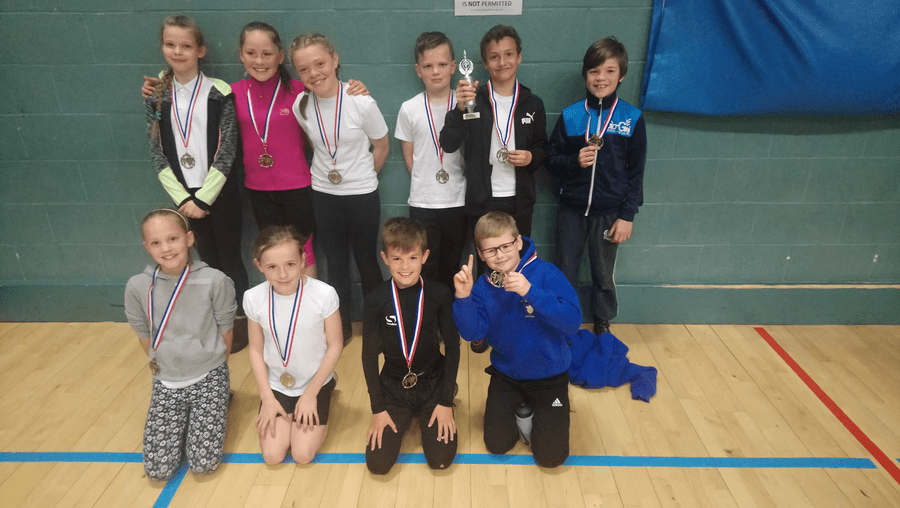 Cross Country
Following a fantastic team performance with a record number of first place finishes, St Joseph's retained the trophy for the 2018 Rugeley Schools Cross Country Tournament being crowned champions for the second year in a row! St Joseph's pupils also secured the fastest boy's time with two of our pupils being joint winners of this accolade. Congratulations on another splendid team and individual performance!
Rugeley Schools Football
Making it through to the finals after an impressive performance in the preliminary rounds, our school football team fought valiantly but eventually succumbed to some extremely strong competition. An impressive 4-0 in the final match meant that the team finished on a high and showed excellent determination right to the end.
Inter-School Sporting Achievements 2017/2018
Netball
After a long season playing home and away against the schools listed below, St Joseph's netball team were victorious and finished in first place. A brilliant achievement, congratulations!
| | | | | | | | |
| --- | --- | --- | --- | --- | --- | --- | --- |
| TEAM | PLAYED | WON | LOST | DRAWN | GF | GA | POINTS |
| St. Joseph's Rugeley | 8 | 8 | 0 | 0 | 68 | 11 | 24 |
| St. Joseph's Hednesford | 8 | 4 | 3 | 1 | 27 | 48 | 13 |
| St. Mary's | 8 | 4 | 4 | 0 | 38 | 29 | 12 |
| St. Thomas More | 8 | 3 | 4 | 0 | 14 | 31 | 6 |
| St. Joseph and Theresa | 8 | 0 | 7 | 1 | 5 | 31 | 1 |
Football
Our football team have been very impressive this year producing some excellent performances. Our young team with huge potential managed to finish second place in a league containing tough opposition. A remarkable achievement and only two points shy of becoming champions, well done to all.
| | | | | | | | |
| --- | --- | --- | --- | --- | --- | --- | --- |
| TEAM | PLAYED | WON | LOST | DRAWN | GF | GA | POINTS |
| St. Mary's | 8 | 6 | 1 | 1 | 43 | 11 | 19 |
| St. Joseph's Rugeley | 8 | 5 | 1 | 2 | 25 | 11 | 17 |
| St. Joseph and Theresa | 8 | 4 | 2 | 1 | 24 | 14 | 13 |
| St. Thomas More | 8 | 1 | 6 | 1 | 10 | 39 | 4 |
| St. Joseph's Hednesford | 8 | 0 | 6 | 0 | 2 | 30 | 0 |
Cricket
This summer term our cricket team took part in a Rugeley schools tournament at Rugeley Cricket Club where they finished second, narrowly missing out on a first place position by only one run! Well done to all involved.
Rounders
The St Joseph's rounders team have brought success this summer term finishing in second place in a Catholic primary school tournament held at Cardinal Griffin. A great achievement, well done!
Cross-Country
Our Cross Country team also brought glory back to St Joseph's after taking part in the 2017 Rugeley Schools Cross Country Tournament where they were crowned champions! Congratulations!