We are back!
Now that we have some of our Busy Bees back in the classroom you might find our class page a little different. I will upload the lessons on a Friday for the following week and these will be the lessons that we are doing in school. REMEMBER that you only need to do the English and Maths lessons at home but I will put all that we are learning on here.
Each day in class we will be also be doing 'Busy Bees Bootcamp' (very similar to Joe Wicks), learning Makaton which you can do on the Makaton page at home, daily prayer, handwriting and mindfulness which you can do on the 'Headteacher's message' page.
I would like this home page to be taken over by photographs. I will upload any fun activities that we are doing in school and I'd love for you to keep sending me your photos from home to my email address: S.Baldwin@st-josephs-rugeley.staffs.sch.uk Parents if you do send me photos from home just let me know if you're ok with me sharing on here.
I shall also keep the reading of 'The Sheep pig' and 'The Dinosaur's Diary' on this page if you missed any of it.
Remember to continue your reading at home too. Whatever books you read remember to get an adult to write it in your reading records so we can see when you're back at school.
You've not got the school reading books at home and you might be missing them. Follow the link below and you can still access the reading books so find the stage you were on and carry on. Remember to write any books you've read in your reading records:
Click on My Class Login
Username: BMrsB
Password: Read
You can then search the reading scheme and keep up with your reading.
Photograph Gallery
The first photograph is our NEW classroom. We have moved into where the Year 2 classroom used to be with Miss Denny. This is because our classroom is getting ready for the 2 year old in September. Here's what our classroom looks like: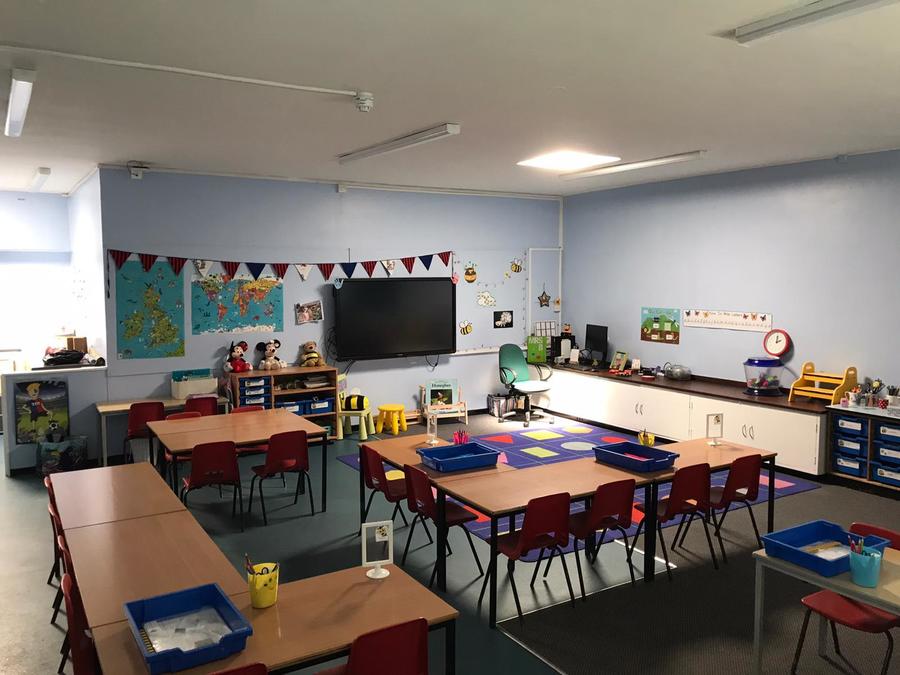 Tuesday 23rd June
We made out paper aeroplanes and had a go at flying them. On this first video we had a little trouble with the wind:
This next one we turned round and it was a lot better:
Wednesday 17th June
Today we had Mr Morrison in doing our PE lesson,we were learning skills on how to jump further and higher.
Tuesday 16th June
We have enjoyed learning about penguins,our favourite fact is that penguins don't all live in the ice and snow. We have also enjoyed playing football and hoop tig. We managed to have our picnic outside and enjoy the weather before the rain comes...
Thursday 11th June
We have had such a lovely week together, but it's not quite the same without all our Busy Bees being back in the classroom with us. We made pirate hats this afternoon, we were all quite tired after our fun packed week back at school.
Wednesday 10th June
The weather wasn't as nice today so we couldn't go on the field but still had fun on the playground. We loved making our treasure maps look old by ripping them and staining them with teabags.
Tuesday 9th June
Today we've had great fun outside,making up our own games with our own equipment. We enjoyed maths and loved creating our own treasure maps. We hope you all enjoyed the tasks today,we are really missing the rest of the Busy Bees.
Home learning
Max has been fishing,Liana has done some great measuring and pancake making! I love the octopuses from our Oceans day project!
Monday 8th June
We had a great first day today,we enjoyed painting and doing our collage of Peter Pan and Wendy. We had fun outside skipping,running down the hill and playing on the field. We did some fantastic writing about saving Peter. We can't wait for the rest of the week.